Introduction: As the festive season approaches, Ivory Florist welcomes you to embrace the spirit of joy and celebration with our exquisite Christmas and Thanksgiving floral arrangements. Located in the heart of Irvine, we proudly serve Newport Beach, Dana Point, Ladera Ranch, and surrounding areas. Elevate your holiday celebrations with the enchanting allure of fresh, vibrant blooms expertly curated by our talented floral artisans.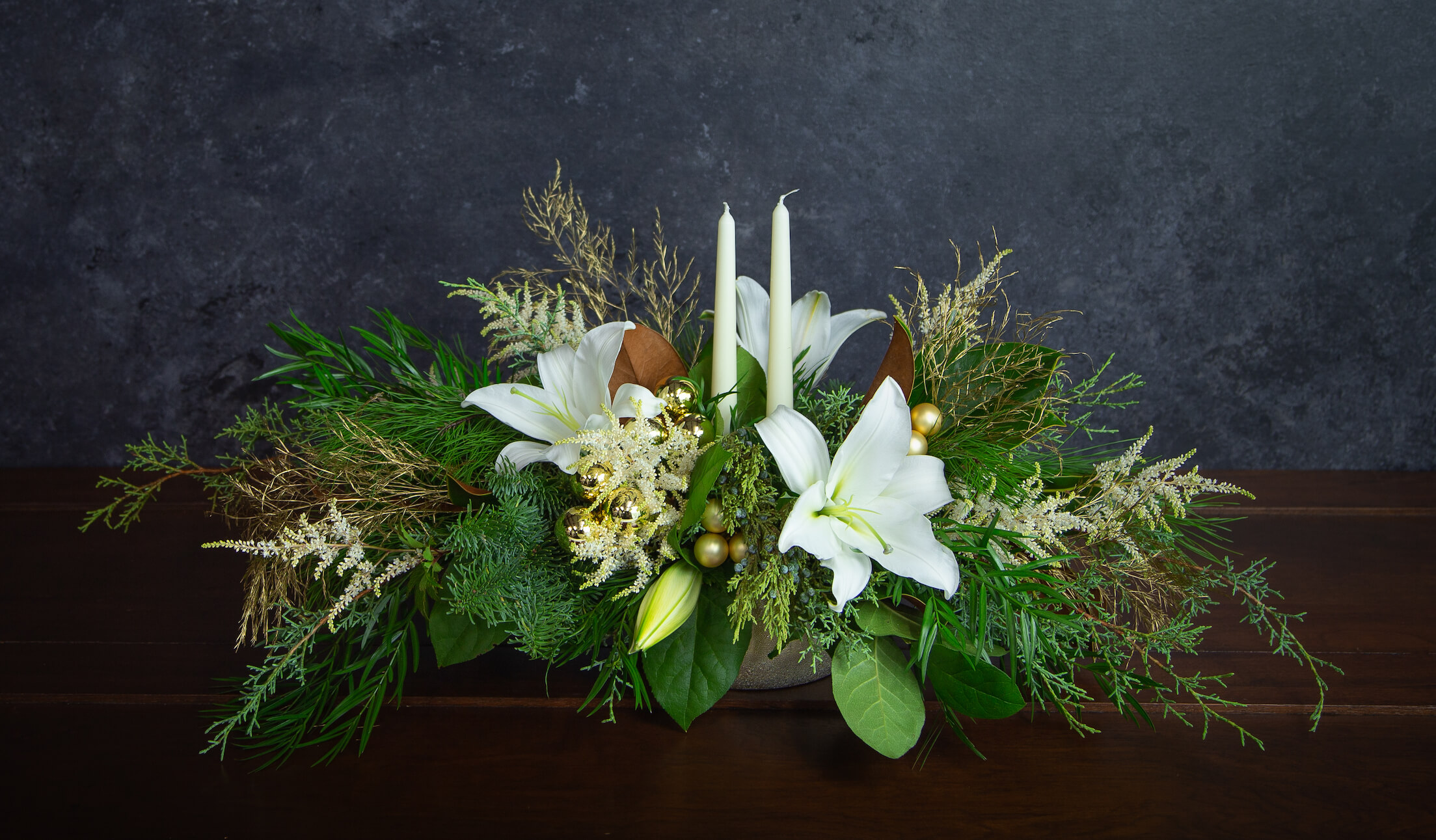 Captivating Christmas Blooms:
Immerse yourself in the enchantment of the season with our stunning Christmas arrangements. Adorn your home or office with festive wreaths, centerpieces, and bouquets that capture the magical essence of the holidays. Our expertly crafted designs incorporate a rich palette of seasonal colors, including deep reds, crisp whites, and lush greens, echoing the joyous spirit of Christmas. Whether you're hosting a festive gathering or sending warm wishes to loved ones, Ivory Florist has the perfect floral expression for every occasion.
Thanksgiving Elegance:
Celebrate the gratitude-filled moments of Thanksgiving with Ivory Florist's exclusive collection of autumn-inspired arrangements. Infused with warm hues and textures, our Thanksgiving blooms capture the essence of the harvest season. From rustic bouquets to elegant centerpieces, our designs convey the beauty of togetherness and appreciation. Enhance your Thanksgiving table with a burst of color and fragrance, creating a welcoming atmosphere for friends and family.
Local Flair for Every Occasion:
At Ivory Florist, we take pride in being a part of the vibrant communities around Irvine, including Newport Beach, Dana Point, and Ladera Ranch. Our locally inspired designs reflect the unique charm of each city, incorporating seasonal elements that resonate with the local culture. When you choose Ivory Florist, you're not just selecting flowers – you're embracing a celebration of community, tradition, and the spirit of giving.
Reasons to Choose Ivory Florist for Your Holiday Blooms:
Freshness Guaranteed: Our commitment to quality ensures that every arrangement is crafted with the freshest, handpicked blooms, ensuring longevity and beauty.
Customization Options: Tailor your holiday arrangements to suit your personal style and preferences. Our skilled florists are ready to bring your vision to life.
Timely Delivery: Enjoy peace of mind knowing that your holiday blooms will be delivered promptly, spreading joy and cheer to your doorstep or the doorstep of your loved ones.
Exceptional Customer Service: Our dedicated team is here to assist you with any inquiries or special requests, making your experience with Ivory Florist seamless and delightful.
Conclusion:
This holiday season, let Ivory Florist be your go-to destination for enchanting Christmas and Thanksgiving floral arrangements. Embrace the magic of the season with our locally inspired designs, and elevate your celebrations with the beauty of fresh blooms. Order now to ensure your home or event is adorned with the warmth and elegance that only Ivory Florist can provide. Make this holiday season unforgettable with the gift of flowers from Ivory Florist in Irvine.